Post by scottydl on Dec 6, 2009 16:55:53 GMT -6
We're going to ring in the new decade with a double-month feature! Featured is tka420 and his VERY detailed history of Classic Aurora ownership(s)... give it a minute or so for the photos to load and enjoy!

---
First of all I would like to thank everyone involved with the Aurora Club of North America for making a site so abundant with information and ideas for the Oldsmobile Aurora. I probably wouldn't have considered purchasing my Aurora if it was not for this site. To all thank you!
My name is Travis, I am 23 and reside just outside of Winnipeg Manitoba, Canada. I have been a fan of GM since birth, Oldsmobile was always one of my Dad's favourites so I always had my eye on their new models. My close friend's father had bought an Aurora in '96 , I loved sitting in the back seat when getting a ride home. I quickly forgot about the Aurora after he sold it for cheap because he had nothing but problems with it.
These are when I first aquired her
Years later I was looking for a car that stood out from the rest in body lines, power train and would be something that I wouldn't see driving past me on a constant basis. There she was sitting at my Broker, Black on black, chrome mags, I was falling in love quickly. This is when I found this site and spent nearly an entire night researching common problems, mods and just how crazy people were for these cars.
On July 27, 2007 at 2 pm I had signed the papers, paid $4200 and drove her off the lot. Shipped up from Florida (my broker found it at an auction while he was on vacation, he drives a 99 Autobahn) she had 126xxx miles on her, a little high but there was no rust anywhere on the car, I have yet to find one in the same condition up here in Canada. She is a 1997 non-autobahn.
I have had a fairly trouble free time with her so far other then alternator, rad, brakes and suspension. Last spring however I was merged into by a Subaru, the driver claiming she never saw me (drunk).
My insurance company quoted me $6400 damage and gave me the option to have it fixed or written off. I decided to let them write her off and I received $4600 and the car back.
Heres a few pictures of her journey -
Her First Day Home
Installing H.I.D's
Shes Done
**BEFORE**
**AFTER**
I have stripped her down and rebuilt her. Here is a list of things done –
Complete Pearl Paint
Rino liner on the under body and wheel wells
New Shocks\Struts
Painted Callipers
Ceramic Brake Pads
Dynamat
6500k HID
Gutted Fogs – Plan to get 4300k HID sealed units
Ground Kit – Both at Engine and Battery
Fixed Shift Light and Pwr\Normal Switch
Moded Reverse Lights (will post a How-to)
DoorGlow (will post a How-to)
K&N Filter
Upgraded Bose System with stock sub delete
10" Alpine Type-R with 800 watt JL amp
Amp power switch and Power Antenna disable switch
NASCAR Quick fill gas cap
What I plan on doing yet –
Muffler Delete
Tint
Lighted rear center panel
Body Kit (maybe)
Heated Rear seats
Couple other tricks up my sleeves
I love this Aurora to death. She gets looks, starts frequent conversations at the pump and is always a hit with date's fathers coming out and asking about her. She's unique, fast and comfortable.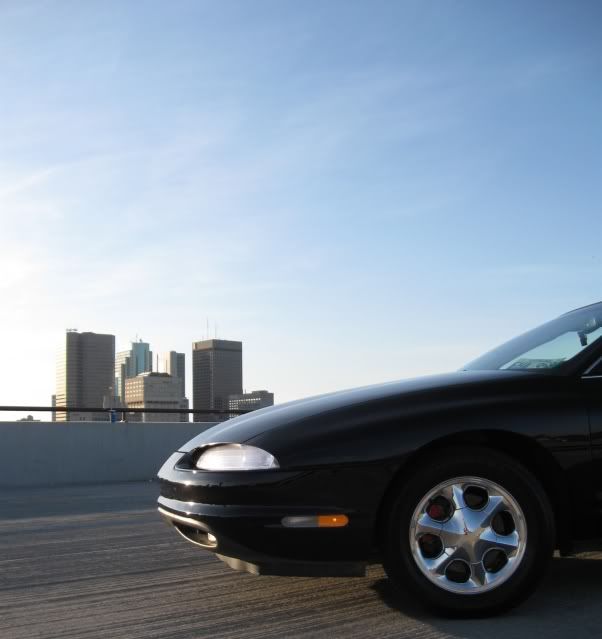 i37.tinypic.com/1zgetck.jpg[/img]
This car has never seen snow, therefore I needed a winter car, and what better then a 95 Autobahn for $700?
Unfortunately she passed last week when a car coming the opposite way lost control hitting me on the drivers door and back, RIP Aurora we could have had good times. I bought it back as salvage only for $250 and am currently stripping it for parts.
So with losing a new love and protecting my baby, I just picked up this 97 Autobahn with 166xxx km for $2500. She will be a great Winter car (not beater) for years to come and a complete donor car for my Black Beauty.
Thank you all for the votes and the honour of Aurora of the Month for December 2009. This is an amazing Christmas present! I look forward to a new year of sharing new experiences, problems, mods, and kill stories with all of you. Best wishes for the Holiday Season. Merry Christmas and a Happy New Year from me and my Auroras!
---