Post by Randy T. on Oct 2, 2011 12:06:35 GMT -6
Quote below is from the meet thread, but it seems like the best way to start this picture thread. Very well said Lance! Thanks everyone! I had a super good time and I am looking forward to the next one. It's pretty neat to think that next year will be the 5th time we have done this, let's make it a big one!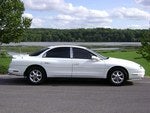 well you guys been hearing me preaching about it for 3 years now and with good reason. The more members we can get involved in the Aurora MO meet, the more fun it is and it will be hard to top this year because we have made Aurora history. yes despite blown tires, hoses and light modules, we did not deter from our goals... to share one of the finest automobiles ever created with the world. we came and we conquered!!
that's right, the city of Aurora belonged to us this weekend when 6 killer Auroras stormed the streets and put the Missouri Mustang Club and the Corvettes Club of America BEHIND US as we Finally got the big one, 3rd times a charm folks. ACNA - 1ST PLACE CLUB. you can all hoot and holler now.
how did we do individually? well let's just say the 3 musketeers, Randy T, Xjsman89 & myself all took trophies for top ten in class! A big congrats to Liz for doing the same. well i swore the whole time it wouldn't happen but apparently we each appeased the Aurora Gods in our own ways. Let's see Tommy spent all his money on tires. Lathan drove several hundred miles w/o a pulley bearing on his water pump, NONE of us got any sleep and we froze our butts off a few times too. I took my dash off and put it back together twice. Randy fussed with a blown heater hose till zero dark thirty, etc. etc.
It was such a blast and i can definitely speak on behalf of all the other members when i say we couldn't have done it w/o you Tracy & Lathan & Tommy!! I mention you foremost because you may not have won individual awards, you strengthened us as a group. it was unfortunate that Gator at the last minute could not attend the show as planned. hey life happens, but we were so pleased to see a 4.6 running in a classic for once. Good meeting you man and thanks for the extra hand.
now i could praise and thank all night but i will try to hit some show highlights first. The competition was perhaps not as big as 2009 (25th annual) but there were some serious rides nonetheless. i mean when there's a lone cutlass parked across the street from us sporting a paint job equal to half of our cars combined values and with as much power under the hood as all of us combined it's intimidating.
today i was parked beside a bright yellow 1967 mercury cougar with a built 302 that pounds 1,320 feet of pavement at 120 mph in 12 flat.
it's friendly owner was an Ase mechanic who thought it was pretty awesome seeing us all together and had a lot of great things to say about our cars. secretly i was jealous of his car and him and i were in the same class but oddly... i got a trophy while he didn't.
here's a few of the mustangs we fought and prevailed over as a club!
every show has it's odd balls
like this one with about a trillion karats worth of fake diamonds stuck on it everywhere.
or this deal which occurs when a dodge durango and studebaker sleep together
cool misc. cars
nineteen thirties gangsta mobile
hey man i hope you have fire insurance because your truck is hot
a junk yard dog for sure
oh yeah did i mention how the Auroras squashed the vettes too?
best in show was awarded to this 50's Bel Air
best bike award went to this vintage hog
best interior award winner, and with just cause, i could see my reflection in the carpet lol
well you know it was an awesome show and even though we somehow missed the parade, who cares. we got #1 best car club.
of course it never hurts to do some last minute mods to push the Aurora legacy around like logos on center caps
i took over 100 pictures but here's to comroderary
even with hungry Auroras
(

)
......it was literally a BLAST
stay tuned...trophy pics and other members photos coming soon.