Post by tigger on Jul 7, 2019 23:53:54 GMT -6
Seems that there is still some confusion on how to fix this issue on our beloved 2Gs (special attn to sunroof models), so I'd like to provide a GENERAL explanation and repair guide. I did this years ago with a friend, on his Bonneville, same thing. Not a lot of photo documentation, but should be enough to get the job done for those inclined to DIY. Just feel like this issue is going to become more prevalent as these cars age.
I won't get into the technical aspects of how the system works here, just know that if the passenger door modules can't "talk" to the driver's door module, the passenger doors do nothing ...no power locks, no power windows. They won't operate from the driver's door master switch OR their own respective switches.
So how do they talk? They have to be wired together, right?
That's exactly right, and therein lies the problem, lol! In their ultimate wisdom, the engineers put the serial data wire splice (the point where the modules connect) under the carpet, under the driver's seat! OK, so we already have this connection at the lowest point of the interior in a water intrusion prone vehicle, can we make it any worse? Heck yeah, let's use a crappy splice connector, like a 3M Scotchlok... And they did.
Most often, if you don't have passenger locks and windows, water has gotten to this POS, 20 cent connector and over time
corrosion
has broken the electrical connection. And if they aren't connected, they can't talk. And if they can't talk, ...well, you know.
Now that you know why they're not working, want to fix it?
1. Disconnect battery and pull the SRS fuse, wait 30 min.
2. Disconnect wiring connectors and remove floor bolts from driver's seat assembly, remove seat from vehicle.
3. Pull back carpet to access the body wiring harness at the point indicated by the S302 arrow. (
original image credit
Aurora40
)
4. Remove tape and dig out four (4) TAN/WHT striped wires connected by the infamous Scotchlok connector from inside the plastic loom. (
original image credit
http://www.pontiacbonnevilleclub.com)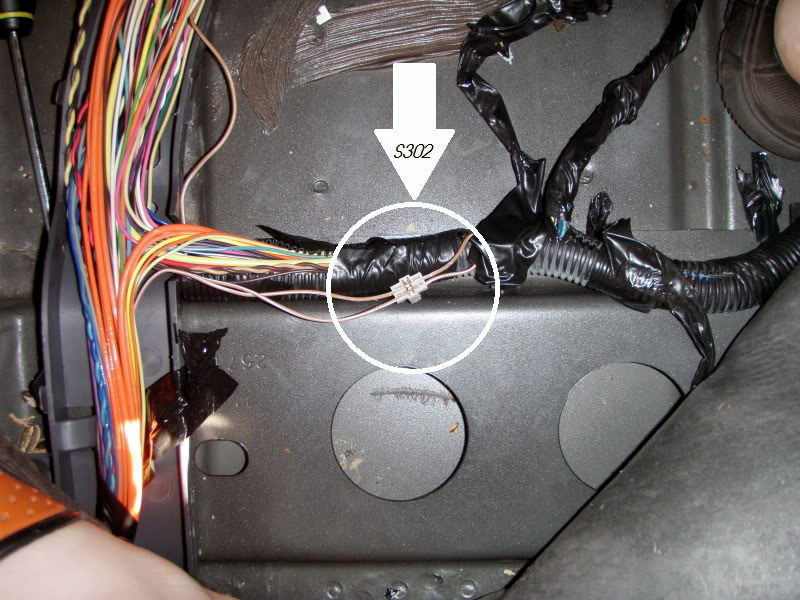 5. Cut out the connector and any corroded wire.
6. Reconnect ALL 4 TAN/WHT STRIPED WIRES into ONE(1) JUNCTION! And I recommend using solder and some kind of weatherproofing regardless of how you make the connection.
7. Reassemble.
HTH/GL