Post by lkeast on Aug 2, 2021 9:24:37 GMT -6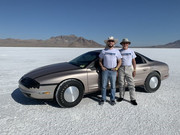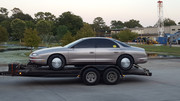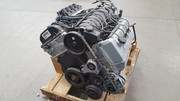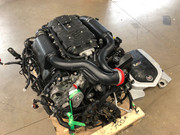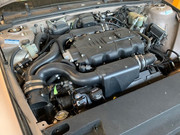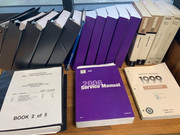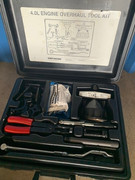 Selling our 99 Aurora Salt Flats racer!
Took her to Bonneville in 2018 and 2019. We built her because she's cool, interesting and unconventional.
My principal business is designing and manufacturing oilfield hydraulic machinery (www.venturetechnet.com), and after the covid and oilfield crash, you can imagine we had nothing to do for a year.
We're slowly recovering now, designing and launching new product lines, very exciting, so no time for this car.
So after all kinds of painstaking time, craftsmanship, and money, I'm ready to sell it cheap.
I have too many car projects anyway, so I'm thinning the herd.
You can see them all at
www.torq1.com
including the Aurora.
This is a cool machine, so if you're interested, take a look at the recap below.
Larry G. Keast, PE
Cell 713-702-1621
Bonneville Land Speed Racing - 99 Aurora – "Not your father's Oldsmobile"
Are you interested in a unique and safe approach to Bonneville Land Speed Racing? Me too, that's why I built this car for the production sedan class.
I picked this 99 Aurora after much research. I'm happy it is unpopular and obsolete because I want to do something very different, and as an underdog.
It has a very interesting front wheel drive, the sideways 4T80E transaxle, the highest HP FWD GM ever built that was also used on 8000 lb Cadillacs.
We installed a new Shelby Aurora DOHC 4.0L V8 320 HP crate engine. Carroll Shelby had GM build these engines to his specs for his planned Series I sports car, to be his non-Ford Cobra.
I wanted the front wheel drive with its heavy front end, believing it would pull us safely across the salt which it did very well.
With 60% of the weight on the front, the car is very stable, and with a Cd of 3.2, the car is a bit slipperier than the Camaros holding the records.
It's a 4000 lb 4-door sport sedan with flush glass that famously broke GM's crush test machine, so they had to use the truck machine for testing.
I like the underdog nature. Any normal hot rodder would laugh and tell me to get a Camaro and put an LS in it. Not me. Sideways engine front wheel drive. We called ourselves Team Sideways!
There are numerous coupe and sedan classes this car can be qualified for, depending on engine size and body modifications.
The record for the slowest of these classes is 205 mph, set by a Camaro in 2012, and the fastest - almost 250 mph, set by the same Camaro.
In 2018 the trans was not electrically shifting right so 140 mph.
In 2019 we chassis dyno'd the car at the last minute and it still was not running right.
We ran the Aurora a total of 6 runs at the 2018 and 2019 Bonneville USFRA World of Speed events, never exceeding 140 mph but we learned a lot.
After that we Installed a 469 HP 2010 STS-V Cadillac Northstar DOHC 4.4L supercharged engine for future plans. (90,000 mile engine, and of course it now feels much more powerful.
Then oilfield manufacturing crashed with Covid, the money stopped, so all car projects on hold.
Don't understand why anybody would do this? When you break a record over 200, you get a red baseball cap that says 200 Club.
But you also have plenty of fun if you don't break 200!
Generally, here's what's also included:
Roll cage
Race seat and harness
Firestone Eagle 300 mph race tires on steel wheels with racing discs.
Shelby Aurora DOHC 4.0L sideways V8 320 HP engine is included with 6 runs on it.
The dash has been removed so a simple race dash needs to be installed.
Roller tires with stock wheels
Factory engine assembly tool set.
All factory parts and service manuals.
Collection of models, memorabilia, and hats.
A second Aurora parts car is also included.
We have spent over 40K on this car and have had a blast.
Ten grand seem a good price to you? Make offer.